About Robert I. Coulter - Organbuilders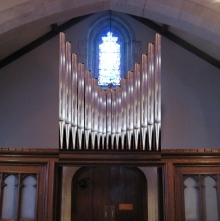 South Highland Presbyterian Church; Coulter/Skinner organ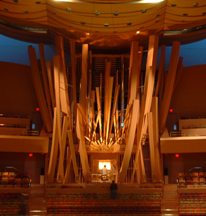 Walt Disney Concert Hall; Glatter-Gotz/Rosales organ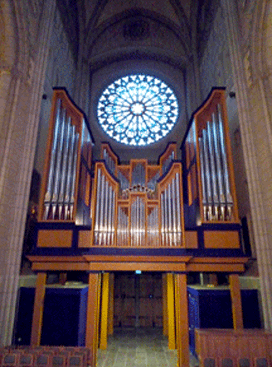 Domkryke - Uppsala, Sweden; Ruffatti organ
Robert I. Coulter began his organ building career with an apprenticeship at the firm of Steiner-Reck in Louisville, Ky. He was fortunate to work for Jim Miller of Miller Pipe Organ Company, the premier pipe organ firm in the Ohio Valley, with a service range of nine states. While with Miller, Robert served as a service technician and tuning team leader, rapidly climbing to be an important member of the firm. He also began his studies in voicing and tonal design at Miller, participating in many tonal finishing / revoicing projects.
Robert is a member of the American Guild of Organists, the Organ Historical Society, and also holds a Colleague Certification from the American Institute of Organbuilders, one of only two in the entire Southeast with that distinction. He has been published in The Journal of American Organbuilding, the Louisville Courier-Journal and the Atlanta Journal-Constitution.
Devloping a reputation as an artisan in the craft, Coulter has served as a tonal designer and voicer on over 65 instruments. With installation and mechanical experience built with participation in more than 200 projects, he has experience with various types of construction and Nationalistic schools of tonal design. These experiences include being a member of the first voicing team at the Walt Disney Concert Hall, and work in the Cathedral (Domkyrke) in Uppsala, Sweden. This knowledge base enables each Coulter pipe organ to fulfil its primary musicial purpose.
Mr. Coulter is an active member of the American Institute of Organbuilders (AIO) and the Atlanta Chapter of the American Guild of Organists (AGO). He has served these groups and others in numerous capacities, including:

Exhibits Committee Chair, and Executive Board Member: American Guild of Organists, Region IV Convention - 2007
Former Vice-President: Commonwealth Brass Band
Founding Secretary/Treasurer: Derby City Brass Band
Executive board member: Georgia Brass Band
Guest Lecturer on the art of organ building for various groups
As a musician, he studied Tuba and Music Education at the University of Louisville, and continues to perform as a freelance tubist in the Atlanta region. He also performs with The Georgia Brass Band, and the The Premiere Brass Quintet. He resides in Atlanta, attempting to keep three cats happy.
References are always happily available.