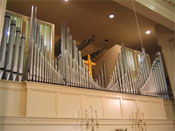 Trinity Presbyterian Church
Well, I want the sounds of an E. M. Skinner or Schnitger pipe organ in my church, but since they are out of business all I can do is purchase a digital organ instead.
This is simply untrue. While it is a fact these two firms, and many other fine organ builders have passed, their legacy and knowledge can be found today in the hands of the craftsmen working to keep the pipe organ art alive.
If, in fact, you do want a new organ full of E. M. Skinner voices for your church that is something easily attained. With so many fine instruments left by this and other builders, when selecting your pipe organ builder ask if they would be willing to make study trips with you to find and examine the voices you want for your church. True craftsmen dedicated to the art will be happy to travel to learn from the work of others, and unlike sampling, examining imparts knowledge which you and your builder can then use to bring the best pipe organ possible to your institution. Copying without the knowledge involved is stealing, copying with the knowledge of how to do it yourself is not.