Palmer Memorial Episcopal Church - Houston, Texas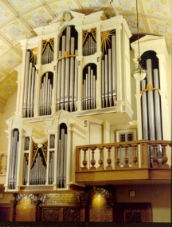 Palmer's Fisk Organ Opus 99
(enlarge image)
In 2004, we were contracted by Rosales Organ Builders to assist with voicing and tonal finishing at Palmer Memorial Episcopal Church of the pipe organ by C.B. Fisk.
In the years since the Fisk pipe organ was installed at Palmer Church in 1991, it has excelled in its ability to perform many styles of concert organ literature. Nevertheless, questions were raised as to how the instrument might better serve its primary function in leading hymn singing and accompanying the choir during Sunday worship.
While this organ will always have the unmistakable qualities envisioned by Charles Fisk, it now incorporates some key refinements to the tonal palette. Although many of the changes made to each pipe are subtle, the cumulative effect on the overall sound and versatility of the organ is significant. Because each stop is able to blend more easily with other stops, many additional and pleasing combinations of sound are possible.
To achieve this goal, many of the 2,976 pipes were shipped to the Rosales workshop in Los Angeles where considerable attention was given to adjusting each pipe to improve speech and tone. As these pipes were reinstalled in the organ, additional time was spent listening at various points throughout the nave to make certain that each pipe blended into a pleasing ensemble. Of the 46 stops, about one-third required extensive refinements, another one-third needed only moderate changes, one-quarter required slight adjustments to improve speech, and the remaining few stops were not changed at all. The temperament system was also updated to incorporate improvements developed jointly by the Fisk and Rosales firms for use in the Fisk-Rosales organ at Rice University.
This project was our first opprotunity to learn and work with Manuel Rosales, and also marked our first work in the greater Houston area. We have since performed extensive work on many fine pipe organs in Houston, Texas and always enjoy returning.
Charles Fisk Opus 99 Specifications
Great, 58 notes
16' Prestant
8' Octave
8' Spire Flute
8' Flute harmoniqe
8' Gambe
4' Octave
4' Chimney Flute
2' Superoctave
Cornet V (from c1)
Mixture VI-IX
8' Trommeten
8' Trompette
8' Clairon 4
Chaire, 58 notes
8' Prestant
8' Gedackt
4' Octave
4' Baarpiip
2 2/3' Nazard
2' Doublet
1 3/5' Tierce
Sharp IV-VI
16' Dulcian
8' Trechterregal
8' Cromorne
Swell, 58 notes, enclosed
16' Bourdon (bass from Pedal Bourdon 16')
8' Viola da Gamba
8' Voix celeste
8' Cor de nuit
4' Italian Principal
2 Fifteenth
1 3/5' Terz
1 1/3' Quinta
Fourniture III
8' Trompette 8
8' Hautbois 8
8' Voix humain 8

Pedal, 30 notes
32' Bourdon (extension of 16' no CCCC#)
16' Prestant (from Great)
16' Bourdon
8' Octave
4' Superoctave
Mixture III
16' Trombone
8' Trommeten (from Great)
8' Trompette (from Great)
4' Clairon (from Great)